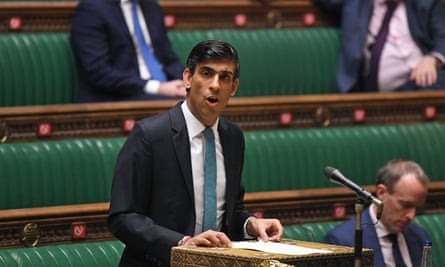 But that's not on offer. Here's what people will find: crash-landing on to universal credit, they will be barred from starting a serious course to retrain. They will waste soul-destroying time forced to prove they are applying for scores of non-existent jobs. They are allowed to train for part of the week, but not enough. Extensive research by Kathleen Henehan of the Resolution Foundation shows "a strong association between training and returning to work, particularly among non-graduates", and for people to change industry, "only full-time education has a substantial relationship with the likelihood of a 25- to 59-year-old making a career change". Crucially, but ignored by the government: "Longer and qualification-bearing training is strongly associated with job re-entry among non-graduates." The government's apprenticeship programme was already in freefall pre-pandemic, creating only a fraction of its target of 3 million apprentices. On top of that, the figures for April and May this year are down 85% on 2019, FE Week has found. It was a good idea to make large employers pay a levy, to be reclaimed for apprenticeships – but as in so many previous training schemes, employers gamed it. Fewer than a quarter of apprenticeships went to under-19s, for whom it was intended.
https://www.theguardian.com/commentisfree/2020/nov/26/unemployed-reskill-tories-cut-training
DATA: South Australians made the most of being at home by tending to the garden or getting ahead on household chores. Photo: SA Water SA Water says South Australia's lockdown coupled with recent warmer weather resulted in the state's water consumption reaching its highest daily figures since March last Thursday. Demand for water on the first day of the lockdown, which also saw temperatures in Whyalla reach 39.8 degrees Celsius as other towns across the state hovered in the mid 30s, saw water use rise to 982 million litres - about 30 per cent higher than the view publisher site daily average of the previous week. SA Water's senior manager of media and communications Joshua Zugajev said that was likely due to people making the most of being at home by tending to the garden or getting ahead on household chores. "We typically observe a trend between warmer weather and water consumption, and it seems with the majority of our community staying home to help stop the spread of COVID-19 during the recent lockdown, we may have had more time to water the garden or get through an extra load of laundry," he said. "Our morning water consumption pattern also shifted during the few days of lockdown, indicating that many people enjoyed a sleep-in and avoided the usual morning rush of showering and preparing breakfast. "Looking at our Morgan to Whyalla Pipeline, which supplies Morgan and several towns through to Port Pirie, Port Augusta and Whyalla, water usage spiked to 155 million litres on Thursday - the highest daily amount for the month so far." He said in comparison to Adelaide, which usually comprises two-thirds of the state's overall water consumption, water use increased by more than 35 per cent to around 630 million litres per day during the three-day lockdown when compared to the five-year daily average for November. After the first two months of the state's initial lockdown earlier this year, SA Water data revealed how showers and toilet flushes peaked two hours later than normal in the morning. Mr Zugajev said a similar pattern formed during last week's lockdown, with the utility's Christies Beach Wastewater Treatment Plant experiencing a sharp rise in flow.
https://www.whyallanewsonline.com.au/story/7028882/water-consumption-rises-during-lockdown/